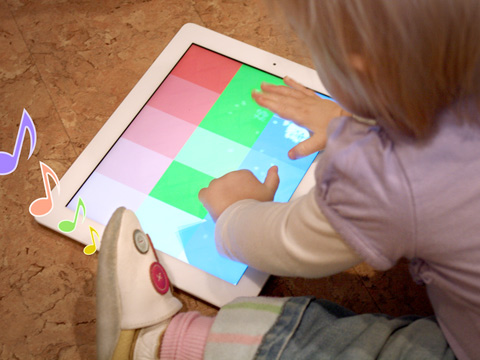 New, from Streaming Colour Studios: Baby's Playful Hands! Baby's Playful Hands is a musical toy for babies and toddlers on iOS devices. This app is a follow up to our award-winning app: Baby's Musical Hands
Baby's Playful Hands is available on the iOS App Store: Get it for iOS now
In 2011 I created Baby's Musical Hands for my infant son, who loved to play with my iPad. The app went on to win awards from the Best App Ever Awards, and the Children's Technology Review. I now have a young daughter who also loves to play on my iPad and iPhone. I decided it was time to create a new app for her to play with. Baby's Playful Hands was born!
Baby's Playful Hands features 6 unique instruments for your baby to play. Each instrument has a colour, and the instruments available change as your baby plays.
Every time your baby touches the screen, colorful stars will burst from their fingers. Watch them delight in the audio and visual feedback as they learn about cause and effect!
Baby's Playful Hands contains animations and interactions that will surprise and delight your baby.
The app supports full multi-touch, meaning your baby gets the kind of feedback they expect when touching the screen.
I'd love to hear from you if your son or daughter loves Baby's Playful Hands as much as mine!
Baby's Playful Hands