LandFormer Status Update
April 26th, 2010
If you read the LandFormer preview on Touch Arcade back in March, the article mentioned that I was hoping to release the game in late April. At the time I did the interview that really seemed like a realistic goal. That's not looking likely anymore.
I thought I should post an update since I'd received a lot of questions recently about how the game is coming along and was I still planning to release in April. As often happens, life and some technical challenges got in the way of me finishing the game on time. My gut tells me that I've got about 3 weeks of work left on the game at this point. I want to make sure the game is as awesome as possible for when it launches, so I hope you'll understand that I'm taking this time to make sure the game is the best it can be.
Since my last post about the game, I've implemented some pretty major changes to the game. One of which was a complete overhaul of the artwork in the game. I liked the theme of the game, but the artwork seemed a bit dark and drab, so I've worked to brighten things up and make the game more appealing and enjoyable to play.
For comparison, this is the last screenshot I posted of the game back at the end of February: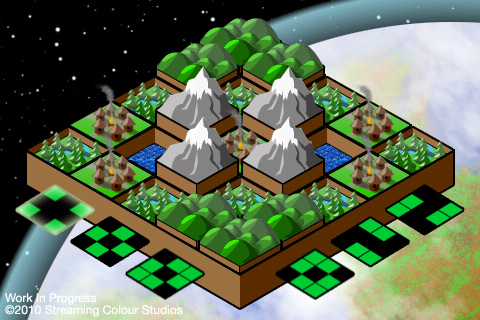 Here's a screenshot of the current state of the game: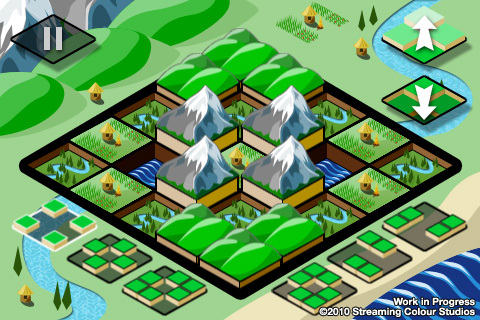 As you can see, the game is basically the same as it was, but I think it looks a lot better. I hope you agree.
One of the other big things I managed to get working was the level editor and level sharing code. When the game ships, it will ship with a bunch of built-in levels. However, it will also contain a level editor so that you create your own levels. Not only that, but you can email levels to your friends so that you can play each others' levels! This feature was a little more work than I had originally planned for, but I think it adds a lot of fun to the game, so it was worth it. It should allow you to keep playing LandFormer long after you've solved all the built-in levels.
Several people have asked for more details about how the game is played. I think it's easiest if I create a short video showing the game in action, but that will have to wait for a few days. Hopefully I can find some time to do that soon.
Until then, please know that I'm working as fast as I can to get the game done and into your hands. I'm working hard to make sure it's the best game it can be.
Owen
Pages

Recent Posts

RSS Feeds

Twitter

Archives

Categories

Misc